| | |
| --- | --- |
| Posted on 3 July, 2014 at 14:06 | |
It has been a while since I have written a blog entry. For up-to-date news and events, check out my
Facebook page! 
I have been working with Epona on jumping. I believe that she enjoys it! Teaching a horse to jump is not as easy as you may think. First we build a foundation with trot poles, strengthening the horses back muscles. Then comes gymnastics work. Gymnastics are a very useful tool. Usually a gymnastic exercise (also referred to as a grid) includes a few different elements. When I set up a grid, I usually include trot poles at the beginning and at least two jumps. There are endless ways to vary a gymnastic exercise. 
Most beneficial is that you (at first) set the jumps so that they come naturally in the horse's comfortable stride. This lets the horse relax and not worry about *when* to takeoff. Also, generally speaking, this allows the rider to work on their position, or practice a better release... or even try riding with no hands! (please don't try this without a professional)
Well, because of the good "homework" I have done with Epona, she has a huge amount of confidence and has worked up to be able to jump consistently in the range of 3'3" jumps (including oxers)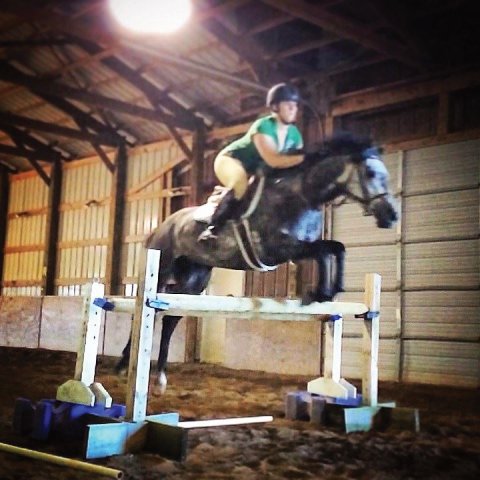 Here is a little pic of us popping over a 3'3" oxer last night.  I had to improvise with equipment as we have surpassed the top hole on the front standards. 
Epona has come quite a long way from the ball of nerves who would flinch if you even looked at her in the paddock. She now trail rides, has been to schooling shows, trailers great, body clips, stands for the vet and farrier, and even has taken an amateur rider over jumps!
Stay tuned for more updates - our next schooling show is July 26th!
/