| | |
| --- | --- |
| Posted on 29 August, 2013 at 13:40 | |
Hi there!
Yesterday I had the pleasure of heading up north a little ways to pick up a lovely Grey Mare. She is a 4 year old Arabian, barely halter broke. She is still trying to help us figure out what her name is. :)
Right now she is probably out in her quarantine paddock, staring at her neighbor wondering what happened... A few days ago she was kept in a roundpen, possibly lonely, but the horse that got the short end of the stick due to lack of time to train. She is still very leery of humans and wonders if we are all out to trick her and scare her. She will be an absolute pleasure to work with, just have to get over the initial "TRUST ME" phase.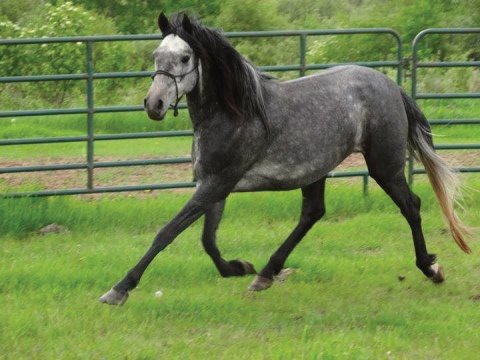 Here she is at her old place, hanging out, just doin' horse stuff... :)
I would not consider her a "blank slate" per se, but a very nice project, right up my alley. She reminds me of a story I was told when I first started training horses. Imagine a horse's mind as a fishbowl, filled with marbles. Every time you work with a horse, the mindset you get is determined by reaching into the fishbowl and grabbing a marble. White marbles represent pure, trusting, happy thoughts, events and behaviors. Black marbles represent negative thoughts, events, and memories. While you work with the horse, no matter what you do, you have the opportunity to change the color of the marble for that day. When you put the horse away, you put that marble back and add a marble to the jar representing that days events, and it then affects the odds the next time you take a marble out. 
I believe this mare has mostly black marbles in her fishbowl, but not many marbles in total. I do not believe she has been worked with very much. So I am going to work on just putting in more white marbles. :)
Categories: Training
/