| | |
| --- | --- |
| Posted on 8 April, 2016 at 12:09 | |
Last week marked the completion of one month's training with a beautiful Morgan named Mo. Mo came to me after a long break from working under saddle. His owner had worked with him before that break, but there were a few issues. She hired a few trainers in the mean time to try to iron out the kinks, but they did not work out for various reasons. 
Mo is a very sweet horse, who I would rate as being somewhat insensitive and a bit slow to respond to cues. I believe that he remembers what certain things mean, but only vaguely, and in addition to that, he wasn't sure how to make his body perform what I asked of him. 
My first few days with Mo were spent testing the waters. He is curious about everything, but not anxious or nervous. He performed well in the round pen, considering his break. He seemed at first like he was trying really hard to please, but wasn't exactly sure how I was going to treat him. 
He reacted well to each "new" task I gave him. I worked in the round pen several days to see how he moved, how he carried himself and how he reacted. He was very unbalanced laterally, and still some of that imbalance remains, as it can take months to years for a horse to truly be balanced. This was evidenced by not being able to easily pick up the right canter lead, and cantering around wildly, racing around the round pen and leaning into the middle, dropping his shoulder.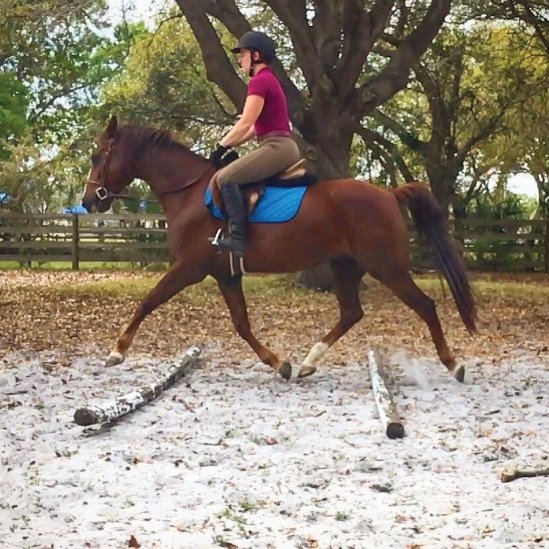 Unbalanced horses are a safety risk for themselves and the rider. We can help them build balance by working over poles and small obstacles, and also teaching them lateral movements such as leg yields, turns on the forehand and haunches, and lots and lots of transition work, between gaits and within them as well.
When the day came to mount up, I was expecting a bit of a speed-racer, based on the work in the round pen. I was happy to learn that he was not as forward under saddle. However, this also has its drawbacks as he does take a little bit of pushing to get forward. This is truly apparent at the trot currently. He needs a lot of work polishing up and when he is fatigued, his trot will dissolve into a less true gait. This will also be remedied by lateral work, work on transitions and work over poles. In an ideal world, this type of problem can be helped tremendously by working a horse up and down hills.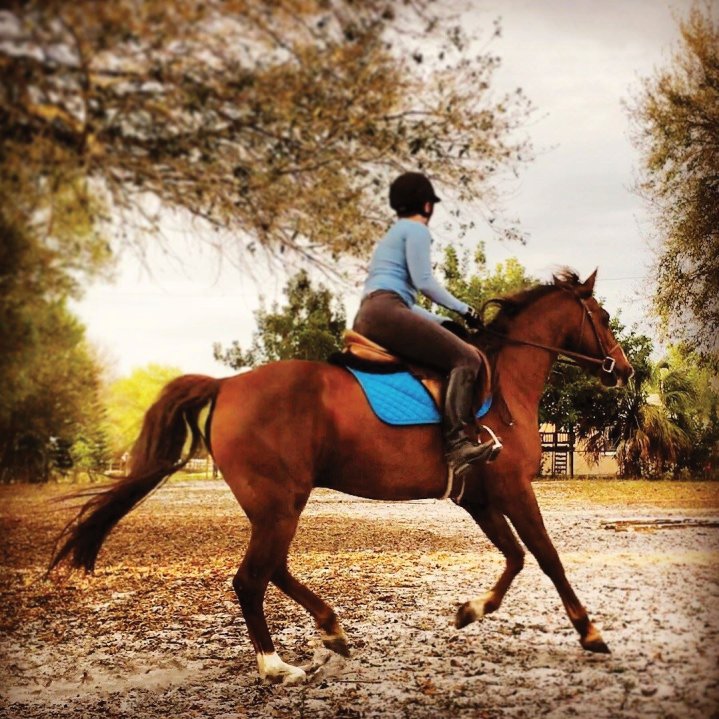 This picture is the first day I cantered with Mo. Not unlike most other horses with a similar past to Mo, he was not sure what I wanted. However, due to the work in the round pen, he had learned the voice cue to Canter, so he had an idea. It was more a matter of organizing his legs to perform the canter. 
Mo has also worked over a small gymnastic exercise, bounce canter rails and some small cross rails. He is sensible, not spooky, and has a good attitude when it comes to work. I look forward to what this month will bring! 
If he continues progressing at this rate, he will be attending a small local, casual schooling show on May 15th. 
Categories: Horse care, Training
/