| | |
| --- | --- |
| Posted on 4 November, 2013 at 18:27 | |
Well it has been a while since I wrote anything on here!!! I have 2 videos I have made of her progress, but even those are outdated! The first one is of the
first two weeks
, basically groundwork, some desensitizing to equipment and some exercising and free jumping.
At that point, I could tell she was sensitive, smart and curious. She was very wary of trusting humans. It took me several days to get her to let me catch her. She still does not come running to the gate to meet anyone, but at least she doesn't cringe when a human looks at her. She really enjoyed the free jumping sessions. It seemed to be a lesson that clicked quickly for her. 
The
second video
I made is a bit longer, because it includes some footage of the first few rides. She is still somewhat easily startled, but generally just green. She reacted to the velcro on my gloves the first few times, and various other strange things. Once she realizes she isn't going to get hurt, she really gets bold and confident.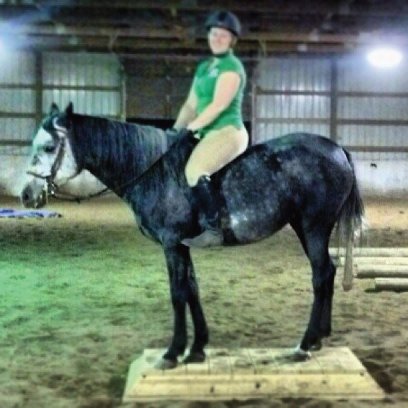 Since those videos, We have done a TON! I have jumped her in tiny gymnastics, gone over trot poles, worked on desensitization with different arena obstacles (see pic) and over an arena bridge as well. She has a lot of muscle and confidence to build but it is coming along wonderfully!!! I have ridden her down a small trail connected to our barn, and she was great! I only had to work with her on trailer loading once, and she has been fin ever since. Even her first bareback ride went well!!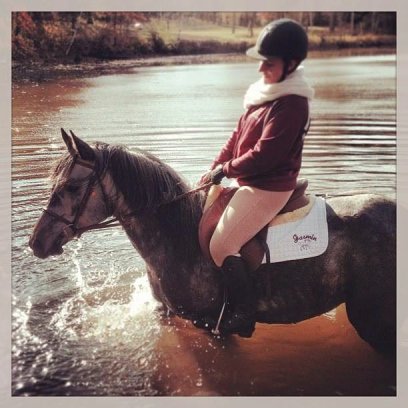 Most recently, I took her out to a local trail park with about 10 miles of trails for horses. I was cautious and advised people that I may want to stick to a walk, since she can sometimes be more spooky than others. She wasn't though! She took off with a nice calm walk into the lead! Unfortunately, a horse we were with would get VERY nervous if not in the lead, so we had to forfeit that role. She was wonderful though, and we walked, and trotted, and cantered! She even was fine going into the water. She enjoyed that a lot, and stuck nearly her whole head in to splash around. 
Hopefully my next entry won't be so long overdue! Have a great week folks! 
/