Horseback riding is a tough sport. It takes a lot of work, sweat, dedication, and commitment. Many people spend hours and hours in the saddle practicing keeping a posting trot rythym, holding two point for laps and laps and laps, and perfecting "inside leg to outside rein". We want the best for our horses. We feed high quality grain, try to give the best hay available, and continually buy new tack, expensive treats, and not to mention riding apparel for ourselves. 
But all the dollars and time spent means nothing if you and your horse aren't working towards better communication. 
You must remember that the horse is a herd animal. They build and maintain relationships with other horses by eating together, playing together, and resting together. 
Some simple ways to spend time with your horse that will build trust and communication - these can be done before riding as a mini-warmup, or after you're done, when you're cooling out the horse, or waiting for your ride to come!!
- Graze your horse where he doesn't normally get to graze
- Go for a nice handwalk with your horse (Bonus - this doubles as a training exercise in the spring before venturing out for the first trail ride of the year
- Spend an extra 10 minutes currying your horse, or give her a nice back massage! Use the heels of your hands rather than the points of your fingers
- If your horse is in a herd, you can do belly lifts and carrot stretches while he is eating with the herd (as long as the other horses are safe to work around)
- Teach her a new trick! Be careful, as tricks can be dangerous if your horse attempts them when you aren't paying attention. I suggest sticking to tricks like shaking their head yes/no, picking up something off the ground like a riding crop, or lifting a foot on command for hoof cleaning. 
No matter how your ride goes, he is still your good horse. He works hard for you, and you should treat him (or her) with the love and respect she (or he) deserves! 
Show your horse you care! :)
Two weekends ago, I had the pleasure of sharing some of my horse knowledge and one of the best lesson horses ever with a family one of my students visiting from out of town. 
All three of the students have ridden before, but have varying levels of skill, and are different ages. Everyone had the ability to ride Tiffany, so we decided to do 3 shorter back to back lessons with some grooming and learning before and after.  Most riding camps focus on western riding, but all three had agreed beforehand that we would learn enlgish riding today! So we talked about tacking up and learned how to put on the saddle pads, saddle, and girth.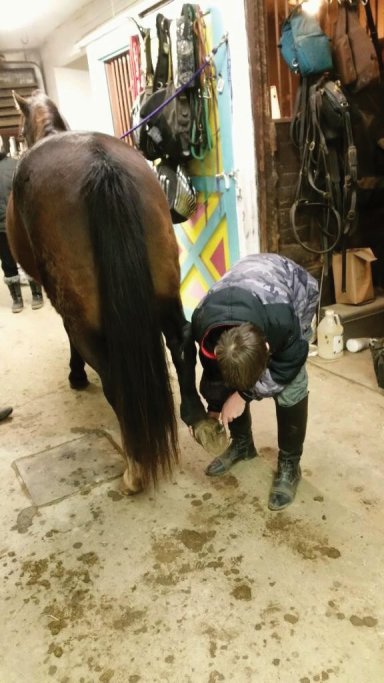 We worked on the finer points of cleaning out a horse's hooves....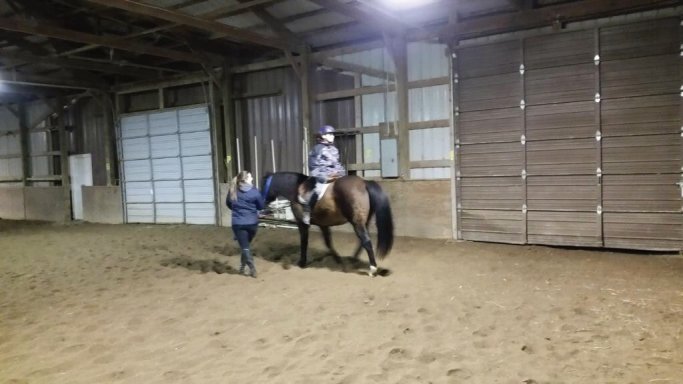 Then it was time to ride! a quick overview of saddle parts and a refersher of how to mount properly.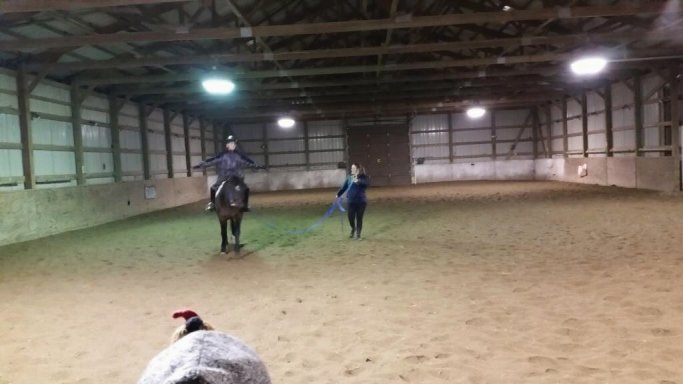 Each rider had some time on the lunge line mixed with some work on the rail. 
At the end of each student's turn, we played a game called "Around the world" which is a great fun, relaxing way to stretch out and build confidence at the same time. 
It has been a while since I have written a blog entry. For up-to-date news and events, check out my
Facebook page! 
I have been working with Epona on jumping. I believe that she enjoys it! Teaching a horse to jump is not as easy as you may think. First we build a foundation with trot poles, strengthening the horses back muscles. Then comes gymnastics work. Gymnastics are a very useful tool. Usually a gymnastic exercise (also referred to as a grid) includes a few different elements. When I set up a grid, I usually include trot poles at the beginning and at least two jumps. There are endless ways to vary a gymnastic exercise. 
Most beneficial is that you (at first) set the jumps so that they come naturally in the horse's comfortable stride. This lets the horse relax and not worry about *when* to takeoff. Also, generally speaking, this allows the rider to work on their position, or practice a better release... or even try riding with no hands! (please don't try this without a professional)
Well, because of the good "homework" I have done with Epona, she has a huge amount of confidence and has worked up to be able to jump consistently in the range of 3'3" jumps (including oxers)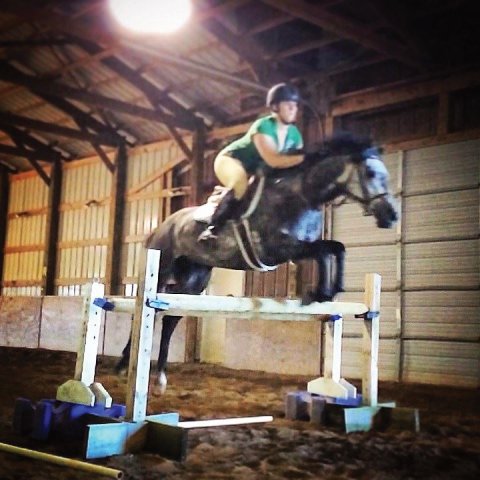 Here is a little pic of us popping over a 3'3" oxer last night.  I had to improvise with equipment as we have surpassed the top hole on the front standards. 
Epona has come quite a long way from the ball of nerves who would flinch if you even looked at her in the paddock. She now trail rides, has been to schooling shows, trailers great, body clips, stands for the vet and farrier, and even has taken an amateur rider over jumps!
Stay tuned for more updates - our next schooling show is July 26th!
Well it has been a while since I wrote anything on here!!! I have 2 videos I have made of her progress, but even those are outdated! The first one is of the
first two weeks
, basically groundwork, some desensitizing to equipment and some exercising and free jumping.
At that point, I could tell she was sensitive, smart and curious. She was very wary of trusting humans. It took me several days to get her to let me catch her. She still does not come running to the gate to meet anyone, but at least she doesn't cringe when a human looks at her. She really enjoyed the free jumping sessions. It seemed to be a lesson that clicked quickly for her. 
The
second video
I made is a bit longer, because it includes some footage of the first few rides. She is still somewhat easily startled, but generally just green. She reacted to the velcro on my gloves the first few times, and various other strange things. Once she realizes she isn't going to get hurt, she really gets bold and confident.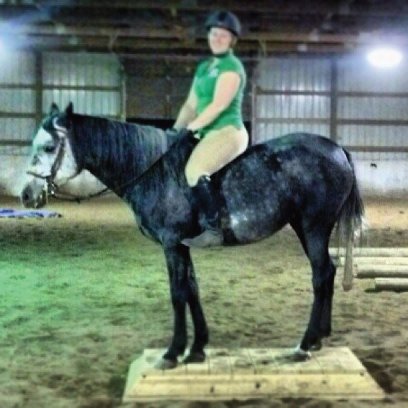 Since those videos, We have done a TON! I have jumped her in tiny gymnastics, gone over trot poles, worked on desensitization with different arena obstacles (see pic) and over an arena bridge as well. She has a lot of muscle and confidence to build but it is coming along wonderfully!!! I have ridden her down a small trail connected to our barn, and she was great! I only had to work with her on trailer loading once, and she has been fin ever since. Even her first bareback ride went well!!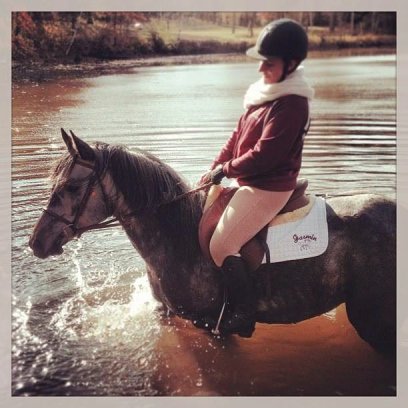 Most recently, I took her out to a local trail park with about 10 miles of trails for horses. I was cautious and advised people that I may want to stick to a walk, since she can sometimes be more spooky than others. She wasn't though! She took off with a nice calm walk into the lead! Unfortunately, a horse we were with would get VERY nervous if not in the lead, so we had to forfeit that role. She was wonderful though, and we walked, and trotted, and cantered! She even was fine going into the water. She enjoyed that a lot, and stuck nearly her whole head in to splash around. 
Hopefully my next entry won't be so long overdue! Have a great week folks! 
Yesterday I had the pleasure of visiting a lovely stable south of the Twin Cities near Rochester, MN.
Turn Crest Stable
is a wonderful lesson barn that hosts a few schooling shows each season. They have tidy facilities and the horses are all happy and healthy! 
Due to the weather, the show had been modified only slightly, holding the flat classes in the indoor arena and the Over Fences Classes in the outdoor arena. It was really nice that they had the flexibility to be able to accommodate the show even with all the rain we have gotten! 
It was a lovely show, I missed the morning classes but the afternoon classes were great to watch, several quality horses and ponies were competing. This particular show was part of the
WWHSA,
and included a medal prep class. All of the horses and riders had a wonderful time, in addition to all the family members and friends there for help and support. 
I will definitely return to this facility in the future, and recommend you do the same :)
Today I took my horse out for the first trail ride of the year!! Yesterday I prepped him a bit by hand walking him down the trails, checking them for footing quality, and making sure he was confident and sure-footed enough to have a  good time. Spent about 20 minutes out yesterday hand walking, and boy were my legs tired! My mind immediately thought "wow, this is gonna be a great workout for his back!"
So today I rode him in the arena, then hand walked him on the trail for about 5 minutes, and then got on. Since I was already out on the trail I had to find a suitable mounting point. I decided to walk out to the Cross Country course and use a jump as a mounting block! That worked okay... But then I realized I had made a mistake and set my horse up for too big of a challenge: 1. the only way to head was home and 2. it was uphill from there. Since he wasn't completely sure of himself yet, he wanted to rush up the hill, which made him slip a little here and there and that made him (and me) nervous. So I found a flat spot to get his brain back to me, and hopped off. Hand walked up to the barn and grabbed the mounting block. Let's try this again, shall we?
We walked on the trail for ... maybe 30 minutes. Long enough for him to feel the burn, but not long enough that he got bored. First obstacle we were met with was some cinder blocks. He pricked his ears at them, but didn't shy. Next was a bit of a tight squeeze through some thorn bushes. He was not nervous until some hit the side of my insulated winter boots with a scritchy scratchy noise. One nervous step and he was easily reassured "You're fine big boy, walk on."
We continued in this manner snaking around the flat trails, making lots of nice hoof prints in the snow. It was so nice to just walk around outside, listen to nature, really connect with my horse, hear his breath, feel his thoughts. It will get better also, when we don't have snowmobiles to occupy the back burner of my brain. :)
Next Step: hills. 
Good morning everyone! 
Well, I am currently looking outside at snow.... MELTING!!! Hip-Hip-Hooray!!!
This means a lot of things. Soon our horses can have true baths, we can start walking outside and checking out the trails, start planning trail rides, start planning shows, and begin the polishing training for our horses anticipating the show season coming. My green horse will be going in the Baby Green Hunter division this year, and I even found a rider for him to go into a few amateur classes! He tells me he is stoked. I may even take him in a training level dressage test to get him more acclimated to being off the property. 
With all of the coming excitement, I can't hardly STOP talking about horses. In the oddest points of a conversation I will bring up something that happened at the barn, or something funny my horse did, or even just something I need to remember to do at the barn next time I go! I usually get strange looks for a few seconds until the other person remembers who they are talking to: a horse lover!!
Off to the barn! Have a good ride!
When thinking back on all the wonderful horses I have worked with, I realize there are TONS of lesson horses who have earned a cushy retirement! All the horses who stop when they feel their student losing balance, the ones who will jump anything you point them at no matter what, the ones who spook in place to not unseat their student, the ones who stand quietly while we play "Around-the-world" or make a million and one stirrup adjustments. If I wrote about every single one, we would be here a very long time. For now, here is a few more gems from my vault.
Jackpot - Jackpot was a wise, middle-aged gelding (I believe another Appendix Quarter Horse) that I had the pleasure of riding when I was still an advanced beginner. The first thing you had to know about Jackpot was that he was hard to catch. I knew even then that he wanted to have insurance that he would be rewarded for his effort, as he would always allow you to catch him if you had grain. He never ran away from anyone in the paddock, he would just stroll away as soon as he learned you were aiming for him. Jackpot was a great lesson horse, I can remember his smooth careful canter depart, making sure his rider was ready before bumping up his speed. Jackpot was the first horse that I rode over a jump on trails. He didn't care much for jumping, but was very safe about it.
Dyna - Dyna was the first mare that I rode in lessons. She was willing to teach me that mares can sometimes be a little more difficult to persuade. She was a small light colored Palomino girl who was very gentle. I interpreted her gentleness as kind of a peace offering. I figured she was trying to show an example to her students. Dyna was the first horse that I used a crop on to reinforce my aids. One day, Dyna was being slow and gentle, except this time she added a bit of stubbornness, and did not have much forward drive at all. My trainer advised that I use the crop behind my leg. The first time, she didn't listen. So again, my trainer said "Use the stick. You have already asked for forward, she did not listen. Now you have to tell her!" so I used a bit more force. But with added force, I lost accuracy, and gave a swift smack... right to her flank. She exploded straight up in the air. It was not an evil buck, just a little hop letting me know that was not ok. I regained composure, and understood what I just learned, and Dyna was a little more cooperative for the rest of the lesson.
Write your post here.
/